In part one of his hands-on review of the Panasonic AG-AC160 1/3" AVCCAM HD camera, filmmaker Noah Kadner discusses its features, controls, ergonomics and available recording formats. He also discusses applications and benefits of a fixed lens camera.
In part two, coming next week, Noah will review the camera's audio and post-production workflows.
Introduction
In an era of interchangeable-lens digital cinema cameras from companies like RED and ARRI (along with HD video-enabled DSLR cameras with large image sensors from Nikon, Canon, Sony and Panasonic), it's becoming increasingly rare to find a new fixed lens camcorder like the Panasonic AC160. But in my opinion, they still very much have their place in the production world. Say you're working in news, documentary, event or corporate videography, where having extremely shallow depth of field can be counterproductive. You only have a single chance to get a shot in focus and can't repeat actions the way a narrative film shoot could. In that case, you may need the deep-focus depth of field that you'd get with a fixed lens, smaller sensor camera.
Or, perhaps you just don't want to deal with the technical considerations and sizable investment needed to build up a robust set of interchangeable lenses. That's another case where having a fixed lens camera would serve your needs better. If that sounds more like you read on, because the Panasonic AC160 represents the state-of-the-art in fixed lens, 1/3" sensor high-definition cameras
AC160 vs. AC130
One question to consider before I get into the full review is: do you need the AC160 or can you get by with its little brother, the AC130 (which costs about $600 less than the 160)? There are four primary differences: the 160 offers HD-SDI out, PCM uncompressed audio, 50Hz/60Hz system switching, and variable frame rates over the 130.
If you need to capture footage to an outboard recorder (such as a Blackmagic Hyperdeck, ATOMOS Ninja or AJA Ki Pro), perhaps for critical compositing work, you'll want the HD-SDI port of the AC160. If you feel that Dolby Digital AC3 audio sounds a little too compressed vs. uncompressed linear PCM audio (which is what most DV, AVC-Intra and DVCPROHD camcorders record by the way), you'll want the 160. If you're planning to shoot in a number of different countries with different video/electricity standards (i.e. NTSC 60Hz vs. PAL 50Hz), you'll also want the 160. If you want to shoot slow motion or sped up variable frame rate shots in-camera, you'll need the 160. If you don't truly need any of these features, you might just grab the 130 and save yourself a little dough for other key accessories.
For the purposes of this review, I used an AC160. Personally, I think it's worth the extra money as the difference in cost is not really that much, and it's always nicer to have a feature and not need it than vice-versa. That said the overall image quality and operation is identical between the two cameras – outside of the aforementioned differences. So, let's dive right into some specifics.
Ergonomics
You'll feel right at home with the AC160 if you've used any modern Panasonic camera from a DVX100 up to an HVX200/HPX170. The controls are very similar to the HMC150/40 class cameras as well. You've got your standard six factory preset scene files assigned to a dial on the rear of the camera marked F1 – F6, along with the usual assortment of Panasonic buttons, switches and dials.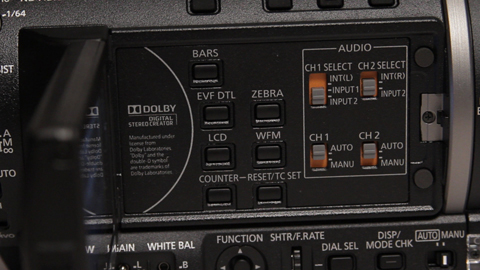 The AC160 also features all the normal Panasonic controls over gamma and color, with nice additions such as dynamic range stretch (giving a quasi-high dynamic range effect by clamping highlights and boosting shadows to increase the apparent exposure range in a shot). You'll also find the usual Panasonic camera and playback control modes, which allow you to quickly shoot and review footage right off the SDHC cards. Buttons are arranged logically, and you have three user-configurable buttons, which allow you to assign commonly used features such as white balance, waveform monitor, etc.
One advantage with a fixed lens is that the camera can be completely optimized by the manufacturer for that one lens, and the AC160 doesn't disappoint here. The massive zoom range (28 mm – 616 mm, 35 mm-equivalent) offers manual zoom, focus and iris control dials and looks great from one side of the focal range to the other. While the focus and iris are digital/'fly-by-wire' dials, the zoom dial is mechanically ganged to the lens. That means you can do very precise and natural zoom pulls and make full use of third-party geared follow-focus type accessories.
The onboard menus offer a surprisingly deep level of manual control over every aspect of the image, with the ability to switch to full automated operation at the switch of a button. You can even customize which functions (i.e. exposure, focus, white-balance) are automated by this switch in the AUTO SW menu screen.
The flip-out LCD monitor offers a decent enough resolution, though I'd recommend an outboard monitor like a SmallHD DP6 or a Marshall V-R70P-HDSDI monitor for critical focus, exposure and color adjustments. You do have a waveform monitor, vectorscope and focus assist built-in, but a good monitor can help you avoid unpleasant surprises in post. The viewfinder is similarly sharp and can be setup to be on either always on or only when the LCD is shut. It can also display as full color or black-and-white.
The focus assist uses red contrast detection to indicate sharp areas of the shot; this along with the EVF Detail button enables to get you very quickly into the ballpark of sharp, manual focus. I got the hang of it pretty well along with an occasional burst of push auto focus when I wasn't positive things were 100% sharp. As a big fan of the Panasonic GH2 and its touch screen monitor, I'd love to see these bigger cameras get touch screens as well. It seems like a natural evolution of the workflow, especially to anyone using an iPhone or Android phone as their pocket camera these days.
Formats
With the AC160, you get most of the expected modern HD formats including 720p, 1080p 24p, 30p, 60i, etc., along with their 25p/50i equivalents for the PAL world. These formats are recorded in AVCHD, which in my opinion is one of the greatest bang-for-buck tradeoffs between visual image quality and manageable file size. Sure, it's not a RAW or uncompressed format, but I've found in 90% or more of my projects this is not an issue, and dealing with smaller 1080p/24p footage throughout post-production makes life easy and efficient. The AC160 offers a number of different quality modes, but I recommend just sticking with the PH mode. It takes up a manageable amount of space on the cards and looks great.
You're also given several flavors of DV, recorded directly to the SDHC cards. This can be somewhat advantageous for clients who only want standard definition footage, but personally I'd shoot HD for them anyway. It's a lot easier to down-convert and deliver SD from an HD master than to try and derive a high-quality HD version down the road when the client suddenly decides they would like an HD version of their project.
As of this writing, you can't record in 1080/60p; interestingly enough Kunihiko Miyagi, Panasonic's Director of Pro Video in Japan, mentioned this will be enabled later via a future firmware update on his blog. As an aside, this sort of personal, open communication about upcoming technical features from large, typically secretive corporations is a very welcome development.
In contrast to the AC130, the AC160 also gives you variable frame rates (i.e. slow motion/high speed) built-in. Panasonic pioneered variable frame rates for video a while ago with its VariCam camera and continues to do it better than anyone else. While you don't have every single individual frame rate between 2 to 60 (or 2 to 50 in PAL-land), you get more than enough stops along the way to capture just about any desired in-camera need.
SDHC/SDXC Cards
Panasonic was the first major camcorder manufacturer to fully embrace solid-state memory as a recording medium with its P2 format, introduced back in 2004. Back then, the idea of recording an HD video signal in-camera to a memory card sounded a bit far-fetched. It also carried with it a hefty price tag (a 4GB card held about 10 minutes of 720p footage and cost $2,000).
Prices have fallen and capacities skyrocketed considerably over the years. For example, a 32GB SDHC card utilized by the AC160 can easily be purchased for under a $100. It will hold three hours of its highest quality 1080p footage. Now you can easily get through an entire production without having to wipe a single card, which makes your workflow much faster and gives you that much more piece of mind. The AC160 also supports the SDXC format and its theoretical capacity of 2TB, so you have plenty of room to grow.
In addition to the usual capture and playback operations any user of an SDHC-equipped still camera would expect, the AC160 also packs a number of neat memory management tricks inherited from its bigger brothers in the Panasonic broadcast line. These include simultaneous pre-recording and relay recording.
Simultaneous recording lays down the current recording identically to the cards loaded in each drive slot, giving you a working copy and an instant backup, just like a mirrored RAID hard drive would. This can be a huge workflow boon to fast-moving productions that want to get into the edit room as quickly as possible or steer captured footage to multiple post-production facilities.
Pre-recording mode gives you a 3-second buffer of continuous recording; say to capture the unexpected start of an impromptu interview or an explosion or stunt during narrative work. Instead of recording minute/hours of unwanted footage waiting for an action to happen, you just hit the record button the moment the desired event actually occurs and know you already have the previous 3 seconds captured.
Relay lets you set up very long continuous recordings, where the recording will seamlessly continue onto the second card the instant the first is full. This can be done for up to a maximum of 12 hours of non-stop recording, which ought to be enough to capture just about any desired event. Finally, the Interval function gives you a lot of options to capture time-lapse actions ranging from sped-up sunsets to blooming flowers. There's lots of creative stuff you can do with all of these memory intensive options that you'd never have with a tape-based camera.
Noah Kadner is a contributing writer for American Cinematographer magazine and wrote RED: The Ultimate Guide to Using the Revolutionary Camera for Peachpit Press. He also produces and hosts Call Box, a digital series of training courses aimed at indie filmmakers. Call Box offers The AC130/AC160 Guide, for owners wanting to get the most out of their cameras.
AbelCine encourages comments on our blog posts, as long as they are relevant and respectful in tone. To further professional dialog, we strongly encourage the use of real names. We reserve the right to remove any comments that violate our Comment Policy.