Topics
4K
,
Featured
,
Phantom
,
Sony
Tags
alexaxt
,
C300
,
C500
,
flex4k
,
pmwf5
,
pmwf55
,
scene-files
,
top-posts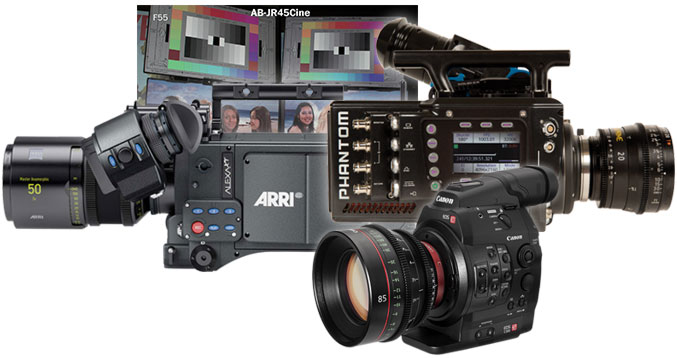 With a ton of new announcements and updates, 2013 was a busy year for our blog team. Here's a look back at the ten most popular blogs of the year – we've got workflow posts, optics, scene files, and camera news from Arri, Phantom, Sony and Canon.
Thanks for helping make 2013 another great year for our blog. Let us know in the comments what your top story of the year was, and what you'd like to hear more about in 2014.
1

How to Import F5/F55 Footage in FCP, Avid & Premiere

The Sony F5 and F55 were popular topics on the blog this year, and in this post, Andy gives a step-by-step explanation of how to import the footage into the NLE of your choice.

2
Why You Can't Use Super-16 Lenses with the Blackmagic Camera 

This blog post was inspired by a common client question about whether or not old S-16 glass could be used with the affordable Blackmagic Camera. Mitch discusses some of the technical details behind why this combo isn't specifically viable.

3
Sony's S-Log2 and Dynamic Range Percentages

The Sony F5 and F55 got a firmware upgrade to to S-Log2, the same as used in the F65. S-Log2 boasts 1300% dynamic range, compared to the 1000% of the original. Andy explains just what that means in this blog.

4
The Production Costs of 4K: From Acquisition to Archiving

At shows like NAB and CES this year, 4K was definitely the ultimate buzzword. As consumer demand grows, one of the most common questions that gets asked is "How much will it really cost?" In this post, Juliet breaks down the actual, real-world costs of 4K from shooting all the way to archiving.

5
Sony F5 & F55 Scene Files from AbelCine

AbelCine's scene files are always popular, and our looks for the F5 and F55 were no exception. These files not only give you a variety of looks for each camera, they are also designed to make matching the two cameras easier.

6
Arri Announces New ALEXA XT CamerasArri's announcement of their line ALEXA XT cameras, featuring in-camera recording of ARRIRAW up to 120fps, was big news. The ALEXA XT line also includes a full 4:3 sensor (2880×2160), and the anamorphic de-squeeze and 120fps high-speed licenses are included.
7
Canon LUTs for the C100, C300 and C500

In this blog, Andy rounds up some official Canon LUTs for the C100, C300 and C500, as well as AbelCine's own scene files. The LUTs are available to download for a range of popular programs. He even includes instructions on how to apply them and when you'd want to use them.

8
NAB 2013: First Look at the Phantom Flex4K

The Phantom Flex4K generated a lot of buzz at NAB. Besides the ability to shoot up to 1000fps in 4K, the camera offers a Super-35 CMOS sensor, 4096×2304 (16:9) resolution, and a small, lightweight body with easy-to-use controls.

9
Sony Announces the New PMW-300

Sony's announcement of the PMW-300 was popular with our blog readers. The replacement for the PMW-EX3, the PMW-300 offers an interchangeable lens system and side-mounted viewfinder. It also has a new form factor and a sensor with improvements in noise levels for better low light performance.

10
IBC '13: Arri Unveils New AMIRA CameraAt IBC, Arri announced the latest addition to their digital camera line. The Arri AMIRA takes the ALEXA's sensor and puts it in a lightweight and compact body, designed to let you pick it up and start shooting.
AbelCine encourages comments on our blog posts, as long as they are relevant and respectful in tone. To further professional dialog, we strongly encourage the use of real names. We reserve the right to remove any comments that violate our Comment Policy.