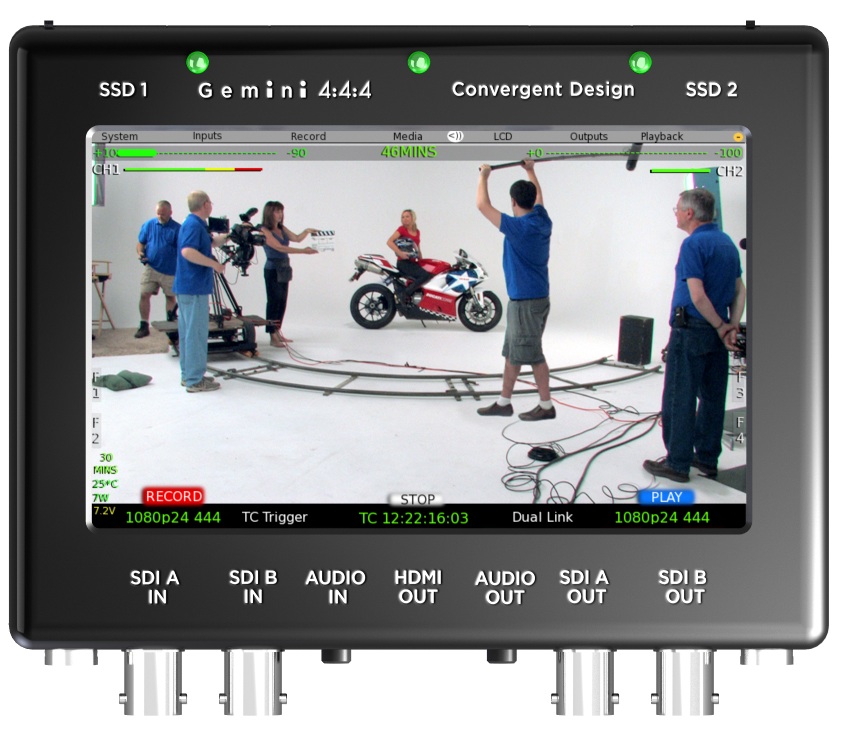 Convergent Design, makers of the popular NanoFlash, have created a new 10-bit uncompressed video recorder with a list price of only $5,995. The Gemini 4:4:4 combines a small (5″) touch screen monitor with an uncompressed HD recorder. The recorder supports HD-SDI, Dual Link and 3G-SDI inputs. It records to one or two 1.8″ solid state hard drives. Just about every HD format is supported up to 2k in resolution in both the 4:2:2 and 4:4:4 color space. Additionally, it is an incredibly light and small device, weighing in at around half a pound, and just about 5″ wide by 1″ thick (5.4 x 4.5 x 1.1"). The built-in touch screen controls the unit and also acts as an on-board monitor. The power draw is a very low 8 to 15 watts, which varies because of the monitor brightness and shooting mode. Convergent Design has pulled out all the stops on this recorder. Keep reading below to learn more.
Uncompressed Recording – The Gemini is strictly an uncompressed recorder, which means it records only the highest quality signal possible; it also means that the files are quite large. A 1080 24P 4:4:4 10-bit signal is nearly 130 MBps (Bytes not bits), which adds up to about 68 minutes on a 512 gb hard drive. This may seem like a problem to some, but hard drives are growing in size every day and lowering in price at the same time.The Gemini allows you to record at the highest quality and push compression into post production when needed. Uncompressed video is easy and quick for most computers to compress, because there is no decompression step. Additionally, many cameras offer compressed on-board recording, which can act as offline media when mixed with the Gemini. See the chart below for record times.
Dual Recording – The Gemini features room for two 1.8″ solid state hard drives. You can choose to record to one drive at a time, or to both at the same time. This is a great option for anyone concerned about their loosing their footage. SSD's are available from many sources, but only drives qualified by Convergent Design will be able to function in the recorder. An eSATA drive reader is included.
LUT Corrected Monitoring – The Gemini 4:4:4 is built to support the gamma modes supported by the latest cameras. The recorder will take just about any signal you send to it, but if you are feeding it a signal in S-Log or Log-C modes it also has the ability to provide a corrected output. It comes preloaded with LUTs for proper monitoring of S-Log or Log-C, which makes it a perfect recorder for Sony cameras as well as the Arri ALEXA. In Dual Record mode, the clean signal can be sent to one drive, while the LUT applied signal can be sent to the other. The Gemini has Dual SDI outputs as well as HDMI outputs for monitoring.
Future Options – Right away the Gemini 4:4:4 will have a huge variety of features, but if you have followed Convergent Design you know they are constantly updating their products. For instance, 1080 60P recording will not be available right away, but will be with a future free firmware release. Other updates like 3:2 pull down removal are also on the way for the future. Recording in 3D will be a future paid upgrade option, and will allow for two signals to be recorded, as well as 3D output for monitoring.
I am looking forward to seeing this little recorder in action. Read more about the Gemini 4:4:4 on the Convergent Design press release, or over at DVInfo's interview. Look for it at NAB 2011 in the Convergent Design booth and possibly in our booth as well.
AbelCine encourages comments on our blog posts, as long as they are relevant and respectful in tone. To further professional dialog, we strongly encourage the use of real names. We reserve the right to remove any comments that violate our Comment Policy.