In this exclusive 3-part online series, indie filmmaker Noah Kadner takes a first look at Panasonic's revolutionary AF100, the first professional camera to combine the interchangeable lenses of a digital SLR still camera with the ergonomics of a camcorder.
Part 1 – Introduction and Pre-Production
Part 2 – Production
Part 3 – Post-Production and Conclusion
My week's time spent with the AF100 went by very quickly and before I knew it, it was time to send the camera and lenses back to Abel Cine Tech. Now I had the chance to work with the footage in post-production. I wanted to see how shots that looked great on the camera would wind up on my monitor at home. I was also very curious to gauge how the camera's codec would hold up to extensive grading and effects.
Although the AF100 I used was a hot-off-the-factory-line prototype, it used the same Panasonic AVCHD codec that's been in use for the past couple of years, most notably on the HMC-series and GF/GH cameras. I had no trouble ingesting footage into my NLE of choice, Final Cut Pro. I'm not sure what the codec support is like in Premiere, Avid and others, but I'd imagine you wouldn't have any major issues bringing it in.
In FCP, you use the Log and Transfer window to load the contents of each card. The native AVCHD footage is transcoded to Apple ProRes at what seems like about a 6:1 ratio of footage length to ingest duration, at least on my MacBook Air. Six minutes of footage equaled one minute of transfer time, so it's quite a speedy transfer process. This can be done directly from a card mounted in an SD slot if you have a MacBook Air like me, or via an external card reader. As a practical matter, I highly recommend making a backup copy of each original card to a hard drive before you ingest in your NLE for safety's sake. You never know when you might need to exchange footage with somebody who doesn't use the same format your NLE works with, and you'll want the camera native format again.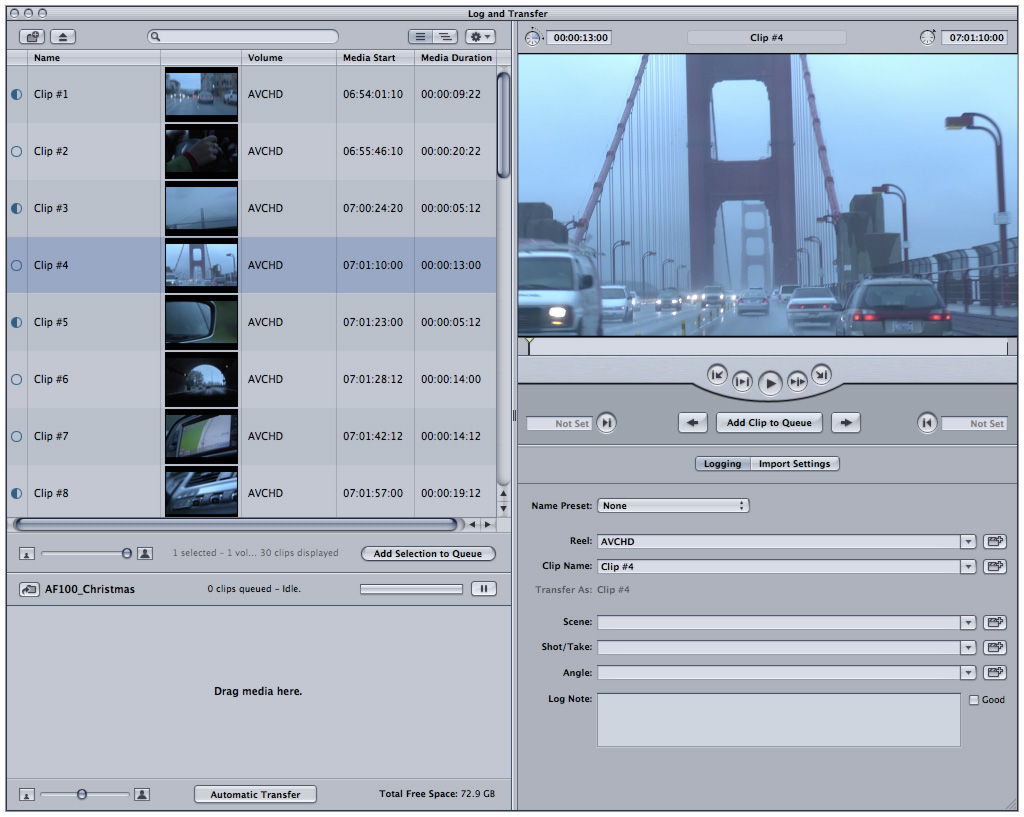 As I brought in my footage, I noticed some of my handheld shots turned out shakier in post than I'd expected when looking through the onboard monitor. So one thing to keep a watch out for if you're used to working with optical image stabilization is that you may be in for some lifestyle changes when working with prime lenses. A shaky camera does add some visual energy, but if that's not something you desire, be sure to use a robust shoulder mount, a SteadiCam-type rig or a tripod. That's one of those things an experienced film cinematographer already knows in their heart but us 'camcorder refugees' must relearn.
Something that impressed me was the vast volume of footage I ended up with. I'm more accustomed to RED, P2 and SxS-based cameras, where you have to keep your shooting ratio in the back of your in mind, as you can run out of available media if you're not careful. By contrast, the SDXC cards are so cheap and hold so much footage, there's really no concern here. You can shoot non-stop all day long on a handful of cards and never have to stop to download if you don't want or don't have time to. That's a huge plus in my opinion. Not only does it make production simpler, it also gives you more choices to work with in post.

One question I see coming up a lot in the forums is the AVCHD codec itself. Can it hold up in post work? Does it give enough image quality? That's something you may just have to evaluate for yourself. Once transcoded to ProRes in FCP, I never found myself wanting more image quality, even after extensive effects work and grading. The highly cinematic look of the shots offset those concerns to such a high degree that I just didn't care anymore, especially in light of the camera's affordability.
There's always going to be a tradeoff in terms of price versus ultimate image quality. To be sure we've had plenty of choices on the very high end but never something so intriguing in the affordable professional world as the AF100. In comparison with other cameras, I think Panasonic has hit a nice sweet spot. The image is not as sharp or as durable in post as the RAW 4K footage you get with a RED or the 2K ProRes of an ARRI ALEXA. Then again, the AF100 is a fraction of their price, and if you're going to tape, DVD, Blu-Ray or online you most likely won't notice that much of a difference. The reality is that if you have a good story, it will make it on a screen, as so many indies have shown us again and again, with inexpensive cameras.
At its $4995 base price, the AF100 is a bit more expensive than a 5D Mark II and more so than say a 7D or other entry level DSLR cameras. But in exchange for a slightly higher price you get much better ergonomics that are specifically designed for motion picture photography rather than still work. I also think that the vast array of optical choices and aesthetic possibilities of interchangeable lenses puts the AF100 several notches above any fixed lens HD camera currently out there.
If you love the shallow depth of field and image control you can get with film cameras and DSLRs, but want the ergonomics and affordability of a HD camcorder, this is the camera you've been waiting for. The AF100 is as much a game-changer as the milestone cameras mentioned in the beginning of this series and deserves a serious look if you're in the market for your next camera. I get a lot of demo cameras to play with but, like Philip Bloom, this is one of the few I've recently seen that I'd really like to own as well.
The folks at Abel and Panasonic really took good care of me with setting things up for this test drive, so I wanted to give them a few shout outs. Abel has a number of nice, pre-configured packages that can get you up and running in a hurry with the camera. They include the camera body as well as some sets of nice lenses and accessories. As Abel has tons of experience in both the digital and film camera worlds, the AF100 is right up their alley for service and support. And, if you want to do a little comparison testing of your own, they also offer RED and ALEXA cameras in the digital arena, as well as film cameras.
I hope you've enjoyed this first look at the AF100.
AbelCine encourages comments on our blog posts, as long as they are relevant and respectful in tone. To further professional dialog, we strongly encourage the use of real names. We reserve the right to remove any comments that violate our Comment Policy.