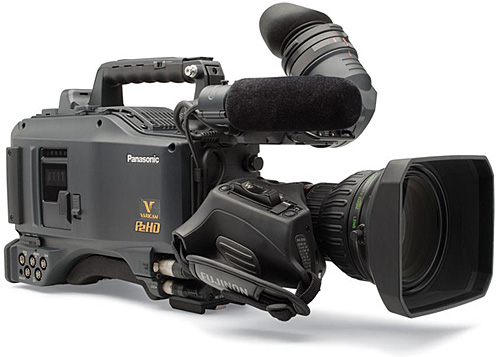 When faced with the challenge of creating a compelling video to launch Cadillac's new luxury coupe, Executive Producer Hal Long knew he needed to have all his bases covered. In order to emphasize the performance and comfort of Cadillac's CTS-V Coupe, he and DP Mark Raker made use of a wide-range of equipment, all rented from Abel's LA office.
For some dramatic shots of the car idling on a tarmac then peeling out onto the track, the production shot with the Phantom HD. However, for interior shots, Panasonic's HPX3700 VariCam was the camera of choice. "While we needed an ultra high-speed camera for exteriors, the VariCam 3700 integrated beautifully into our specialized workflow…shooting with the HPX3700 at full-raster 1920×1080 resolution in AVC-Intra 100, we achieved images that fully convey the passenger luxury inside the car," explained Long. In addition, the production deployed the HPX170 to get even more detail in smaller interior spaces.
Rounding out their workflow were Panasonic's HMR10 compact field recorder/player, the HPG20 P2 HD recorder for real-time back-up, and the HCK10 POVCam for use on car-mounts. Says Long of the ultra-compact camera, "Considering its minute size and weight – a little more than ½ a pound – the POVCam is a big performer. We shot in the highest-quality PH mode, using a long lens, and recorded 1080/30p to the HMR10. The car mounts were all about singling out detail, and we got a really nice looking defocused background with the HCK10."
To watch the full video which premiered at the 2010 Detroit Auto Show, click here.
AbelCine encourages comments on our blog posts, as long as they are relevant and respectful in tone. To further professional dialog, we strongly encourage the use of real names. We reserve the right to remove any comments that violate our Comment Policy.